Facing the challenges of motherhood, running an interior design business while also a wife, daughter, sister and friend, Alicia celebrates the gift of life through a new lens, and finds the joy by seeing the light in her darkest hours. Alicia dedicates her story to all of us who have or will face a terrifying life challenge. As far as she can tell, the challenges do indeed come our way, and we learn from them.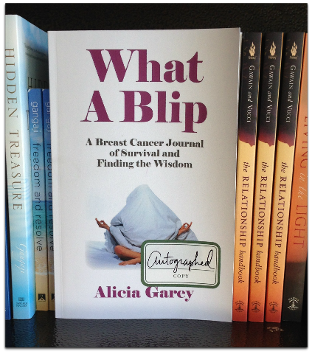 "Here's a highly readable, deeply honest, and profoundly insightful memoir of one woman's journey. It's a cogent, incisive, and beautifully written account of her journey of self examination and self discovery. I was moved and dazzled and inspired."
"...I don't want any more time to go by without thanking you for writing What A Blip. Reading it touched me deeply and made me think many thoughts I'd never considered before. Above all it gave me a much richer understanding of what my friends went through in their own cancer battles. Thank you."
"...Brilliant, gutsy, and vivid...this is one hell of a wonderful book..."
"...I'm a therapist and I thought I 'should' read it, but... it totally blew me away, more of a gritty war movie than a chick flick, 'What A Blip' is a deeply personal account of the author's fight against breast cancer - warts and all. Unguarded, intimate, brave, touching and infused with a dark humour (titles like 'What Rhymes with Constipation?' and 'How Many Breasts Will You Be Ordering Today?') and even though you kind of know ('cos she survived to write it) what happens in the end it's a total page turner."
"Alicia is a wonderful writer. Really insightful, funny, tragic and inspiring. Bravo!"
"A genuinely wise and funny account of living through breast cancer and creating meaning on the other side. Alicia puts into words what so many women on the unexpected journey through cancer feel and never say; this book gives solace to all who wonder -- is it just me? A truly sensitive and inspired story, told with great warmth and generosity of spirit by a gifted writer."
"An achingly beautiful, heartfelt look into a year in the life of a mother, wife, sister and daughter as she battles breast cancer with humility, honor, grace and humor. A tour de force. Can't wait to see what comes next from this amazingly honest and insightful writer."
"Alicia Garey's "What a Blip" takes you on an honest and at times uncomfortable journey of the challenges one faces with cancer, while giving an in depth, soulful look at not only this disease but the inner fears that arise and the fortitude it takes to stay focused on the result and accept nothing less. Alicia gives direction and tips on how to achieve success, and explores the courage it took to look this massive wild animal in the eye head on without ever backing down. "What a Blip" is heart wrenching, endearing, and gives any woman who is facing or diagnosed with cancer extraordinary hope."
"Alicia Garey's brutally honest look at her battle with breast cancer is equal parts warm and chilling, gritty and poetic, gut-wrenching and funny. From her darkest days to her emergence on the other side, this beautifully powerful writer will sear herself onto your soul and leave you with love, gratitude and above all, hope."
Please
"Please God don't let my body fail again. I don't think I could do this more than once. Please God I'll do my best. I want to live until I'm too old, until I'm ready to go, until I can slip away peacefully. I face this thought and want to push it down and that's what is so hard each day.
But I will eat cookies from time to time. And I will drink wine from time to time. I might have white bread or candy. Not much. But I will. And I will occasionally eat meat. My diet is excellent most of the time; salads, fruit, organic chicken, no soda at all, salmon, not much milk (just cream in my coffee). I swear I'll do what I can. I will take vitamin D with calcium as instructed. Just don't destroy me with breast cancer. Please.
Thanks God. I appreciate it."
"Are you sure you are going to lose your hair?"
"Yes, I am going to f***ing lose my hair."
Go ahead,  click on an image to expand and read the captions